Welcome to the donations page! That's right, fair reader, you now have the ability to transfer your hard-earned money into my wallet as a thank you for my work on the comic and as a plea for mercy lest I destroy you with my fearsome powers.
Will Save World for Gold uses an arc-based reward-driven donation drive system. That's a fancy way of saying that each (or most) story arcs in the comic will be accompanied by one of these drives, and that for every certain amount that you the readers donate, you'll get a reward! What kind of reward? Bonus pages, of course. Not a side-story, not one-shot gag comics, but extra updates of the main storyline! These extra pages will be posted on the next Saturday or Sunday after the incremental goal is met. Additionally, when the overall goal is met, I'll post some cool extra stuff as a thank you, so any money donated beyond the posted goal won't be a waste. What kind of cool extra stuff? You'll just have to wait and see. Also, you don't have to donate to see these bonus pages and the cool extra stuff! One the goals are met, everyone enjoys the rewards.
However, this offer only applies so long as the current story arc is ongoing. If the arc ends and the donation bar isn't yet full, you miss out on any remaining extra updates (and the extras). But never fear, those page will still be appearing, just not as quickly as if the donation goals had been met. And there'll likely be another drive for the next story arc, so you might still get a chance to see those extras too!
Donations are tallied daily between midnight and 1 AM Eastern Standard Time.
I currently only accept donations through PayPal. If you are unable to use PayPal to donate, or if you can't spare any money for things you already get for free, rest assured that just reading the comic every day is a great way to show your support!
Past Donation Results
Arc 2: Success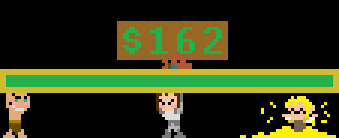 Goal: $100 / Made: $162
Arc 3: Success



Goal: $250 / Made: $259
Arc 4: Fell Short



Goal: $250 / Made: $175
Arc 4: Success



Goal: $250 / Made: $325