TURN 3:

All three Clans send representatives to fight the mighty Owlbear, and together they inflict a great deal of damage. The beast retaliates by swiping at Groff with both of its massive paws, dealing 2 damage. Toothy continues his duel with the Grimlock, inflicting minor damage but taking none. On the upper level, most of those involved in the Centipede fight disperse, but Happy and Jokey keep at it. Jokey is bitten for 2 damage, but explodes the Centipede's face with his Warhammer, killing it. Happy and Jokey gain 1 Glory each! Also, a Centipede Poison Gland survives the bloodbath and falls to the ground.
There is a small scuffle over the Hide Buckler between Crafty and Grabbie, but Crafty manages to strap it to his arm first. Steve gets the Dagger unopposed. All three head down the middle ladder. They are joined by Dopey, who sniped the final Torch out from Smashy's nose, by Pernickety, who tried and failed to grab the Jeweled Box, and by Mason, who wasn't trying to grab anything. He's just exploring.
Though Pernickety and Boomy both tried, it is Shaky who managed to grab the prized Jeweled Box from the skeleton's hands. This item has a high Value, but it COULD contain something even MORE Valuable! But the only way to find out is to destroy the Box. In a huff over failing to grab this wonderful item, Boomy heads back to his Clan's entrance.
Rusty checks the skeleton for any more items, but it doesn't have any. It seems to be the corpse of a sneaky Dwarven miner who violated the law and snuck down here to raid the dungeon! Serves him right that his bones have been picked clean by the Grimlocks. You've taken his items, as he clearly lacks the honour that warrants such a rich burial, but you leave his body where it is. You're still lawful good, after all. Rusty then heads down the far left ladder.
Stooge checks out the chest while everyone else is distracted. He'd like to loot it, but it seems to have an Iron Lock. There's no getting into this bad boy without a Key of some kind.
Cheery and Loverboy rest. Loverboy recovers 1 Hp.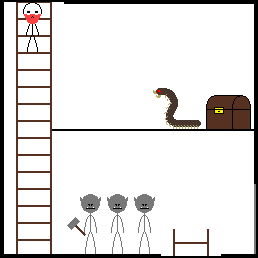 Rusty checks out the new room. Not as busy as the last one, nor as large. Should be easy pickings.
Mason and Grabbie climb down the middle ladder only to find that there's blessed little ladder to climb.
"Och, watch where ye're goin' Dopey! We hav'nae any room left tae stand!"
"Tis nae my fault, there's moore comin' behind!"
As more and more Dwarves try to enter the room, Mason, Grabbie, Dopey, and Crafty all fall to the floor, as there is only room for two on the ladder! The fall itself is no danger to hardy Dwarven warriors, but it leaves Grabbie open to an attack from the Black Pudding below! Grabbie takes 4 damage.
"Moradin damn ye clumsy bastards!!"
"Oops."
Steve and Pernickety are both left standing on the ladder, with their Clanmates trapped below!
*****
DAGGER
Weapon
Value 5. Atk +1.
HIDE BUCKLER
Shield
Value 6. Def +1.
JEWELED BOX
Value 24. Contains another item, but must be destroyed at the Forge to get at it.