This game has been abandoned for various reasons. Check this post for details.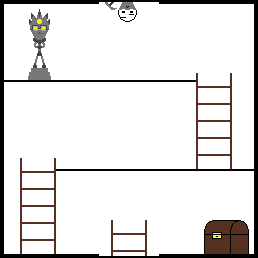 The dwarf clans of Crooked Peak have a long and proud history, but it seems even they didn't know just how far back it reaches. An ancient dungeon has recently been discovered far beneath the mountain, and the statues of Moradin inside indicate that the structure is definitely of dwarven make. And yet no record of its construction or purpose can be found. As such, the tunnels become the property of the clan that first set foot inside.
The only problem is that three different clans found three different entrances, and there is no way to prove beyond a doubt which clan entered the dungeon first.
After appealing to the king and his massive army of lawyers, it was decided that ownership of the dungeon would go to whichever clan proved most worthy. This would be decided by which clan's warriors were most capable in the two most important aspects of dwarfhood; protecting one's holdings from the forces of evil, and acquiring vast amounts of wealth!
Each clan selected seven of their finest warriors (for seven is well known to be a lucky number amongst dwarves) to send into the dungeon. Being lawful good, the dwarves were not to attack or steal from one another, and must show proper respect should any of them fall during their mission. But only one clan can emerge victorious.
Moradin bless you, and may the best dwarf win!
RULES OF THE GAME
Each player controls one dwarven warrior from one of the three clans. Each clan will have their own subforum, visible only to its players, where I'll keep track of your stats and items and where you will post your actions so that your opponents can't see them. If two players attempt to take the same action, but both cannot do so (such as looting the same chest), the 'winner' will be chosen at random unless one dwarf is clearly closer to the place where the action is to be taken.
The results of all actions will be posted publicly in this thread so that all players can see them, and so non-players can follow along. This is a competitive game, but it's a friendly competition. Lawful good, remember!
The goal of the game is to explore the dungeon, collecting items and defeating monsters. All items have a Value rating, and some are worth more than others… sometimes MUCH more. More valuable items aren't necessarily stronger though, so sometimes you have to choose between a powerful piece of equipment and valuable treasure that will help you win the game. Similarly, all monsters have a Glory rating. Weak and common monsters have a low rating while strong and rare monsters have a high one. Glory is divided evenly among all dwarves who contribute to their defeat (rounded down, excess Glory being wasted), even if those dwarves are from different clans. However, Moradin is watching closely and will not reward a dwarf that joins battle only briefly in an attempt to steal the Glory!
Once you feel your collected items and accumulated Glory are sufficient, you may return to your clan's entrance and leave the dungeon permanently. At this time your score will be tallied and added to your clan's total. Your score is equal to the total Value of all your items, plus three times your accumulated Glory, minus 1 for every turn you spent in the dungeon. Patience is a virtue but efficiency is better for business, and a dwarf who leaves early with a modest haul might outperform a dwarf who lingers trying to squeeze out every last drop of Value and Glory.
If you instead DIE in the dungeon, your score will still be counted (no penalty for time is applied), but will be halved. Either way, any items you're carrying are lost forever to the other dwarves in the dungeon, as they are either stored in your clan's treasury or placed in your tomb as a token of respect. The clan with the highest total score at the end of the game wins.
Each dwarf begins the game with the following stats:
Hp 10
Atk 2
Def 2
Hp is a measure of vitality. When you get hurt by monsters or traps, your current Hp goes down (but your maximum remains the same). If your Hp reaches 0, you die. Atk is your offensive power. When you attack a monster, this is how much Hp it loses. Def is how well you resist damage. When you are injured, you subtract your Def from the damage you take. Your Def applies to the total damage from all attacks you take each turn, NOT to each individual attack.
Monsters also have the same stats, but theirs are often higher and many also have special abilities or more than one form of attack.
Though each dwarf enters the dungeon with only the clothes on their back (which have no Value; nice try!), they will quickly gather equipment and magic items to improve their abilities, as well as valuable treasure. Each dwarf is limited in what they can carry, however. You may wear one piece of armour or clothing on your torso, and may wear one item of headgear, one pair of gloves, one pair of boots, one belt, one necklace or cloak, and two rings. You may carry one item in each hand, usually a weapon and a shield, but also some kinds of magic or mundane item collectively called tools. Wielding two weapons gives you no benefit, as you can only use one weapon to attack each turn. Wielding two shields also gives you no benefit. Wielding anything other than a weapon, shield, or tool applies a -1 penalty to Atk and Def, but lets you carry an extra item. Finally, some weapons require you to use both hands to wield them in combat, though you can still carry them one-handed without penalty. You also have a backpack which can hold no more than five items. Anything else you'll have to give away or set aside, or reforge.
Each dwarf clan has lowered a small portable forge into the dungeon. You can use it to break down unwanted items into raw materials, which you can then use to craft new items. Be careful though, as you half as many materials out of an item as you would put into it, and raw materials have no Value (no, not even gold; deal with it!). On the bright side, your materials are stored in your forge rather than carried around, and no dwarf may use another clan's forge. Your forges also store recipes. Each forge comes with a number of basic gear recipes, but you learn an item's recipe when you convert it into materials, and can thus replicate useful or valuable items. You might also find recipes for items hidden in the dungeon. These might be inscribed on immovable tablets, so that all clans can learn them, or scrawled on parchment so one clan can keep them secret.
The game will be played in turns. One turn will usually be 24-48 hours long (I try to update at least four times a week, but other things like the comic take precedence), during which time each player must post their actions. There are three types of actions, major actions, minor actions, and move actions.
Major actions include attacking an enemy, picking up an item off the ground, looting a chest, manipulating an element of the dungeon (like levers or a forge), using most consumable items, inspecting something in detail, and taking an extra move action. You can only take one major action per turn.
Minor actions include speaking, equipping items, dropping items, or trading items with nearby allies (including dwarves from a rival clan, if you feel so inclined). You can take as many minor actions per turn as you want, but each item can only be used ONCE per turn. So you couldn't attack with a sword and then give it to an ally, then have that ally use it and pass it back.
A move action is when you move from one room to an adjacent one. You normally have only one move action per turn, but you can use your major action to take a second. Some items may grant you extra move actions per turn. You can't move after you attack, but otherwise can perform your actions in any order.
If you take no major action and no move action, and are not being attacked or otherwise in immediate danger, your dwarf will rest and recover 1 Hp.
Any player who fails to post their actions takes none (but may heal, as described above). If a player misses turns repeatedly, or provides notice that they can't post for a certain period, their allies may vote for their dwarf's actions. If a player misses many turns in a row, their character will be handed over to a new player at my discretion. If you're going to sign up to play, please make sure you can commit the time to post 4-6 days a week. It only takes a couple of minutes!
To sign up, just post the name and beard colour of your dwarf in this thread. I'll be taking the first 21 players. You will be sorted randomly into clans. Once a clan has seven players, you can decide on a clan name that all your dwarves will share and design a clan banner. Once all three clans are created, the game will begin!
If you don't get to play at first, you can still follow along and maybe a place will open for you later on, and you can definitely check out the City thread for ways to help the players out. However, I ask that spectators do not suggest solutions to any problems or puzzles. That's the players' job!
CLAN DARKBEARD
1.
GreatPadon, The Duke, light blue
DEAD
2.
Dlover, Bobby, purple
DEAD
3.
Arles, Flint, dark red
4.
nikohl, Steve, cream
5.
Ziprath, Groff, orange
6.
GreatPadon, The Earl, dark blue
7.
Mortimer, Stooge, red

CLAN ALEHAMMER

1.
Dusk9, Shmacky, dark pink
2.
Dusk9, Smashy, dark brown
DEAD
3.
Fkrts, Waity, turqoise
4.
Itaav, Barry, purple-pink
5.
ArcaneMusic, Twitchy, dark blue-green
6.
Donnigan, Toothy, dark green
7.
Brokencastle, Rusty, sort of salmon-y

CLAN THAT CONQUERED TREES

1.
sonic3535, Happy, yellow
2.
Maiandra, Pernickety, brown
DEAD
3.
NotSilentObserver, Dopey, light blue
4.
madmartin26, Jokey, green
5.
Rodgeir, Grabbie, blue-grey
6.
thatguy, Mason, blue
DEAD
7.
vid20, McCallum, pink
DEAD